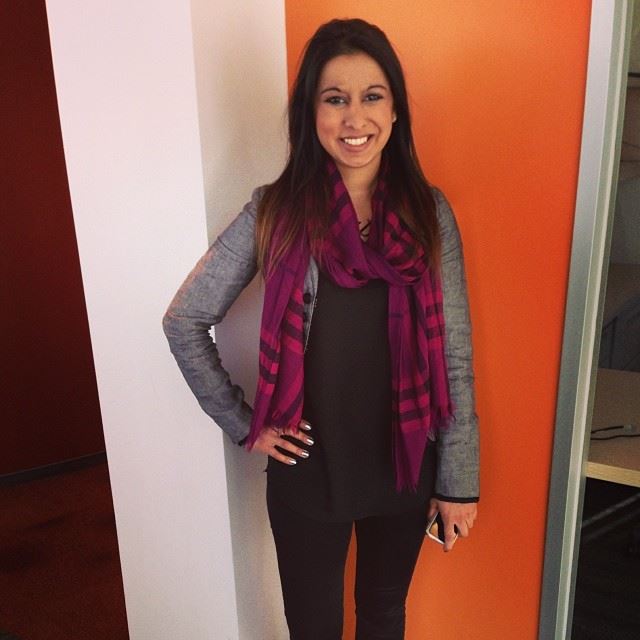 When you work in a casual work environment, such as my office, it's easy to become lax in your efforts to dress up and look professional each and every day. I, myself, have fallen victim to it as well. You can't help but want to throw on a comfy pullover with jeans and a pair of classic chucks. Even if your office isn't so lax, your efforts can wane, especially when it comes to wearing the same cardigan with the same button-down each Thursday. Why does it matter? Well…there are a few reason to consider putting in more effort:
Appearance. Confidence. Motivation. 
When you take the extra 5 – 10 minutes to pick out an outfit that is "put together" with the accessories to embellish it, then you walk out the door feeling good. That feeling stays with you the rest of the day. And when you receive a compliment (which you will, trust me), that feeling will radiate through you. And the best part, people will notice it. Win-win!
Additionally, when you're sitting at your desk in a blazer or heels (or both!),  you are more apt to sit up straight and have better posture. When you feel confident in yourself, you'll feel confident in your work too.
And when you feel confident in your work, well … do I have to continue? In the words of Britney (yes, I'm going there), "Work B*tch!"
But how do you pick out that "outfit" each and every day? Consider the following:
Pick out your outfit the night before
Do what I do – and use your shower time to think about what you'll wear (seriously)
Have your go-to outfits near the front of your closet, when you're in a rush
Bonus tip:
What's your go-to "feel great" outfit? It helps to have a few ready to go in a pinch. Mine is simple but works for a casual day at work, a client meeting, dinner out, or even a late evening with friends. Whatever the day, I feel great in it!
Black Skinny Cropped Jeans
A Black Silk Blouse with a mild embellishment
A modest but standout blazer (ex. red, gray with hooks instead of buttons, or one with slight leather lining).
Kitten Heels or Stiletto Booties (depends on your mood)
A simple gold or silver pendant necklace
A silk or sheer scarf (feminine, but cozy)
How do you #RadiateDaily? 
Image source: me; This post was originally written for but revised since:  http://fashiontipsforyou.com